I am currently working as the Fundraising & Marketing Officer for The Organisation of National Ex-Service Personnel (ONE) an Irish Veterans Charity (
www.one-veterans.org
) after completing over 31-years military service in the Irish Defence Forces.
From May 2011 to May 2020, I was the Editor of An Cosantóir (The Defender) The Irish Defence Forces Magazine – view my LinkedIn Profile for full bio and CV.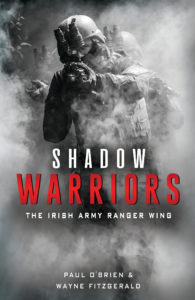 In April 2020 I co-wrote Shadow Warriors: The Irish Army Ranger Wing with my friend, military author and historian Paul O'Brien, published by Mercier Press: https://www.mercierpress.ie/irish-books/shadow-warriors/
"In the spring of 1980, the Irish Department of Defence sanctioned the establishment of a new unit within the Irish Defence Forces and the Irish Army Ranger Wing (ARW) came into being. In the decades that followed, its soldiers have been deployed on active service at home and abroad, generally without the knowledge of the wider public. The ARW is made up of seasoned men from across the island, who are selected through tough competition. Only the best of the best make it through and are trained in an extraordinary range of specialist skills. Being one of these elite operators takes more than simply being a skilled soldier – it means believing you are the best."
Shadow Warriors tells the story behind the creation of the ARW, from its origins in specialist counter-terrorism training in the late 1960s and the preparation of small unconventional units in the 1970s to the formation of the ARW itself in 1980 and its subsequent history. The first and only authoritative account in the public domain of this specialist unit, authors Paul O'Brien and Sergeant Wayne Fitzgerald have been granted access to the closed and clandestine world of Ireland's Special Forces, who train hard, fight harder and face unconventional types of warfare, yet prefer to stay out of the limelight.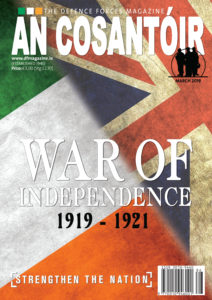 An Cosantóir is the official magazine of the Irish Defence Forces. First published in 1940, An Cosantóir provides, in print format, accurate and timely information about Defence Forces operations and policies to its members, their families and interested parties worldwide. A typical issue may contain articles dealing with new equipment, training, overseas service, unit and individual activities and achievements, international military affairs, military history, sport and much more. An Cosantóir is distributed monthly to a readership of approximately 25,000. It is sold for €3.00 in 191 Outlets nationwide including 41 Eason & Son bookshops, 38 Tesco Extra/Super Stores and also The National Museum of Decorative Arts & History, Collins Barracks, Dublin.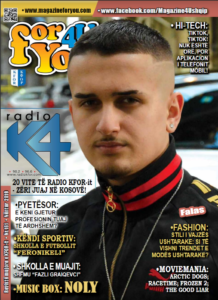 In January 2002, I was the Military Editor of KFOR Dialogue, which was the official publication of KFOR – Kosovo Force (KFOR) a NATO/Partnership for Peace (PfP) Peacekeeping Force. It was a Tri-Linguistic, Bi-Weekly 8-Page Broadsheet Newspaper. I worked on the transition from the Newspaper insert KFOR Dialogue to the Magazine For You (4U), which is now produced and financed by KFOR, printed in Kosovo and distributed freely. It is a youth magazine translated in to Albanian/English and Serbian/English. www.magazineforyou.com