As published in An Cosantóir in October 2014
By Sgt Wayne Fitzgerald – Photos by Cpl Neville Coughlan

On 2nd September 2014 the first Defence Forces Veterans' Day Parade was held on McDermott Square, DFTC, Curragh Camp. Many veterans from around the country joined under their respective flags. In attendance were the Irish United Nations Veterans Association (IUNVA), the Organisation of Ex-Servicemen and Women (ONE), along with the Association of Retired Commissioned Officers (ARCO). The Minister for Defence, Mr Simon Coveney TD, officially attended and was accompanied by the Chief of Staff, Lt Gen Conor O'Boyle and Brig Gen Seamus Ó'Giolláin, GOC DFTC.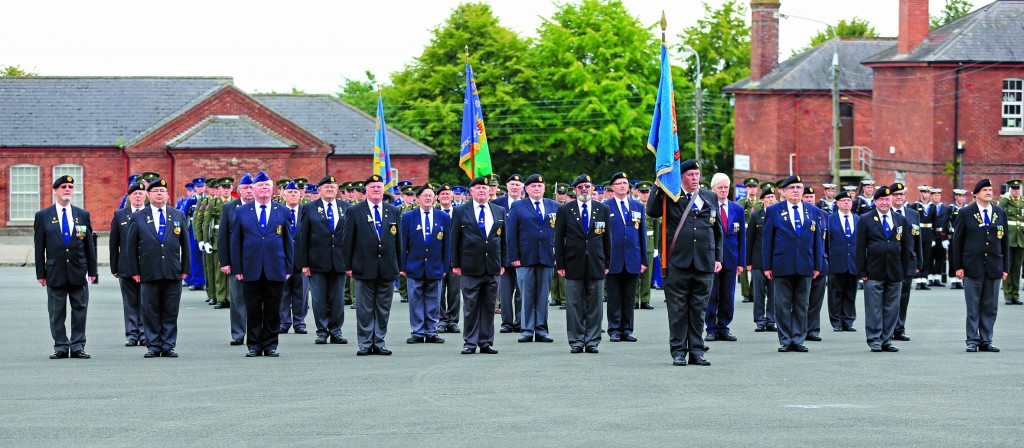 The Minister in welcoming past servicemen and women confirmed the Defence Forces were committed to our veterans:
"There are many honours and responsibilities associated with service in the Defence Forces. Today I am happy to acknowledge the important service that former servicemen and women have contributed to Irish society in domestic operations and in hostile regions around the world. Today we are recognising the service of all former members of the Defence Forces across all three services, the Army, the Naval Service and the Air Corps, at home and abroad".
The Minister complimented the Defence Forces on our 54-years of international peacekeeping:
"The 27th July 1960 was a watershed moment when Ireland sent its first peacekeepers with the 32nd Inf Bn to the Congo, the first complete Irish unit sent overseas as part of a UN mandate. For a further fifty four years the Irish Defence Forces contributed to the cause of peace in places like Lebanon, Chad, Liberia, East Timor and Syria (to name but a few) and continue to do so today".
The Minister reviewed a parade of the representative associations, and also serving members from the Army, Naval Service and the Air Corps. Following a short multi denominational religious service by Rev Fr John Marsden and Rev Fr PJ Somers CF, and a lament was played by piper CQMS David Usher (Ord Sch), and then the Minister laid a wreath along with the three representative associations to honour our deceased servicemen and women.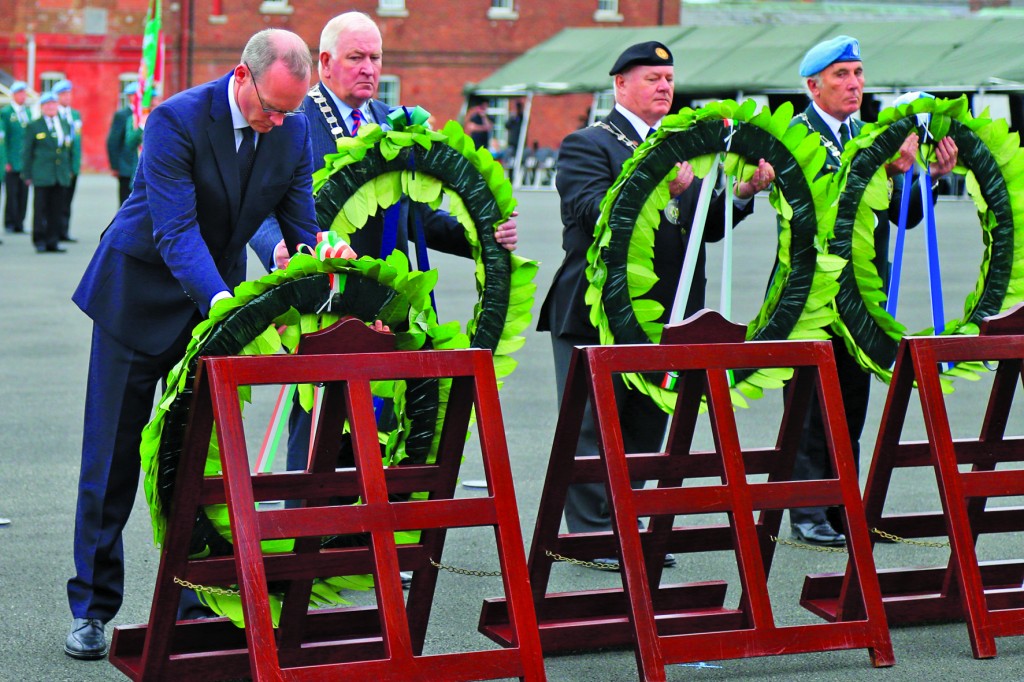 The Minister finished by paying tribute to the 86 members of the Defence Forces who died on operations at home and abroad in the service of their country, "They paid the ultimate price in the cause of peace". The day was finished off with light refreshments and displays of current weapons and vehicles and also a display of historical vehicles and weapons brought in by the Irish Military Vehicle Group (IMVG).
Read these stories and more in An Cosantóir (The Defender) The official magazine of the Irish Defence Forces – www.dfmagazine.ie