As previously published in An Cosantóir in December 2013/January 2014 issue.
By Sgt Wayne Fitzgerald – Photos by Sgt Mick Burke
On 8th November 1960, the biggest loss of life of Irish soldiers in any single incident overseas happened in the Belgian Congo. This heartbreaking and significant moment in the history of the Defence Forces took place while these troops were serving as UN peacekeepers with 33 Inf Bn as part of the Organisation des Nations Unies au Congo (ONUC).
On that fateful day Lt Kevin Gleeson took his 11-man patrol over a bridge on the Luweyeye River near the town of Niemba where Baluba tribesmen ambushed them. After a courageous fight against overwhelming numbers, nine of the patrol were killed. One member of the patrol, 20-year-old Tpr Anthony Browne from Rialto, Dublin, survived the initial attack but was subsequently killed. His body was not found until November 1962. Tpr Browne was also posthumously awarded the first ever An Bonn Míleata Calmachta (Military Medal for Gallantry), the Defence Forces highest military honour, for his conduct during the ambush.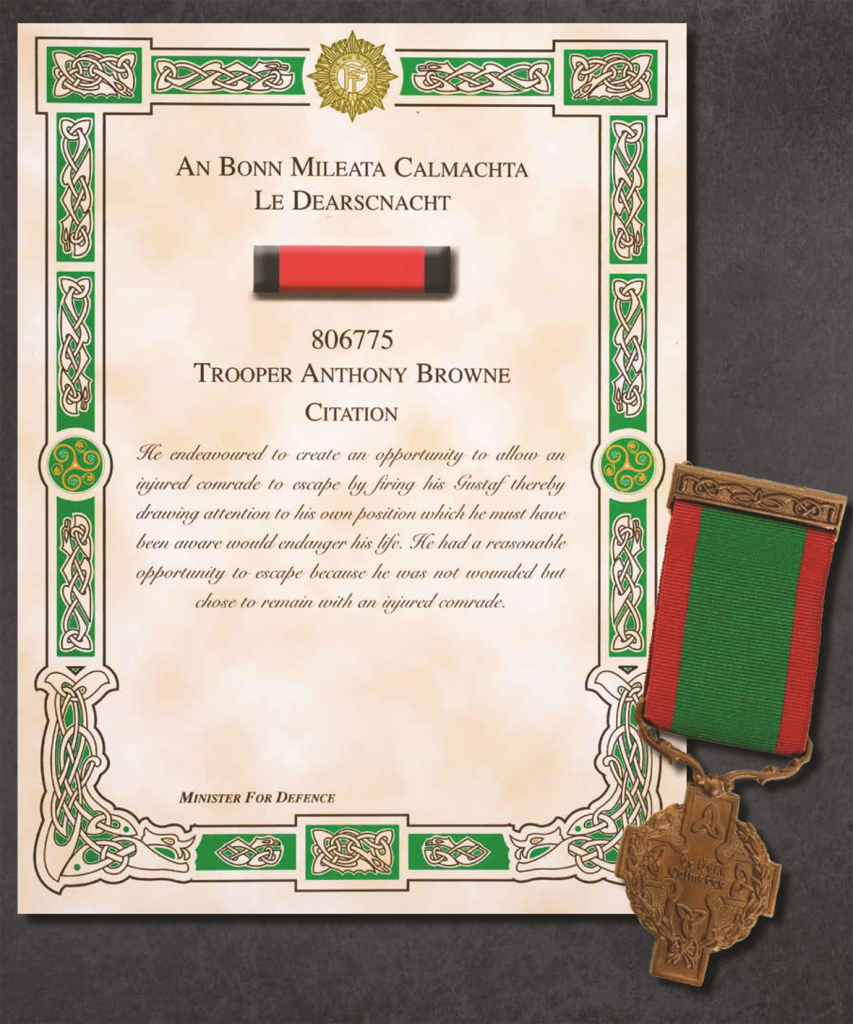 His citation reads:
"He endeavoured to create an opportunity to allow an injured comrade to escape by firing his Gustaf, thereby drawing attention to his own position, which he must have been aware would endanger his life. He had a reasonable opportunity to escape because he was not wounded but chose to remain with an injured comrade."
Those that lost their lives were: Lt Kevin Gleeson (30), Sgt Hugh Gaynor (29), Cpl Peter Kelly (25), Cpl Liam Dougan (34), Pte Matthew Farrell (22), Tpr Thomas Fennell (18), Tpr Anthony Browne MMG (20), Pte Michael McGuinn (21) and Pte Gerard Killeen (27).
Two members of the patrol survived, Pte Joseph Fitzpatrick (then 21) and Pte Thomas Kenny (then 24).
On 10th November 1960, in a follow-up operation to recover remains, Pte Patrick Davis died after he was shot accidentally. He was laid to rest with his colleagues from the ambush. From 1960 to 1964, 12 Defence Forces units with almost 6,200 troops, served with ONUC. In those four years 26 Irish troops paid the ultimate sacrifice in the name of peace.
On Saturday 9th November 2013, the 53rd Niemba Commemoration took place in the Garrison Church, Cathal Brugha Bks, with a Mass at 1200 hrs followed by a wreath-laying ceremony at the Memorial Garden outside the church.
The annual ceremony is organised by the Organisation of National Ex-Servicemen and Women (ONEt) on the first Saturday in November. The veterans of ONEt and IUNVA provided a guard of honour and the 'Last Post' was played by members of the Army No 1 Band. This was followed by a minute's silence, 'Reveille' and then the national anthem as the national flag was raised to full mast.
Wreaths were laid by Deputy Lord Mayor of Dublin, Councillor Pat McCartan; Chief of Staff Lt Gen Conor O'Boyle; Secretary General of the DoD Maurice Quinn; ONEt President John Hennessey; the UK Ambassador HE Dominick Chillcot; US Defence Attaché Lt Col Sean Cosden; Dan Garland of IUNVA; Lt Col Joe Aherne (retd) of ARCO; Brig Gen Jerry Enright (retd) of 33 Inf Bn; Comdt Earnan O'Naughton of RACO; Mark Scally of PDFORRA; Comdt Eugene Gargan of RDFRA; Declan Pendred of the Irish Naval Association; Noel Cullen of the Royal British Legion; and Martin Coyne ONEt (on behalf of the American Legion in Ireland). Also present was former Swedish army officer Stig von Bayer who served in the Congo at the time of the ambush.
Even though most of these trailblazing peacekeepers have now retired, their memories of the Congo and places such as Elizabethville, Jadotville and Niemba are still very strong within the Defence Forces as we continue to remember and honour them.
On the previous day, Friday 8th November, members of the IUNVA, with families and friends of troops of 33 Inf Bn, held a ceremony and reception in Glasnevin Cemetery and Museum at the monument and plot for Irish soldiers who died while on service with the UN and for members of Óglaigh na hÉireann, which is where the state funeral for those who died in the Niemba Ambush took place.
After the ceremony the family of Tpr Anthony Browne (MMG) presented his old bull's-wool uniform to IUNVA for a loan. It will be put on display in IUNVA's HQ at Arbour Hill.