As published in An Cosantóir in February 2017
Report and photos by Sgt Wayne Fitzgerald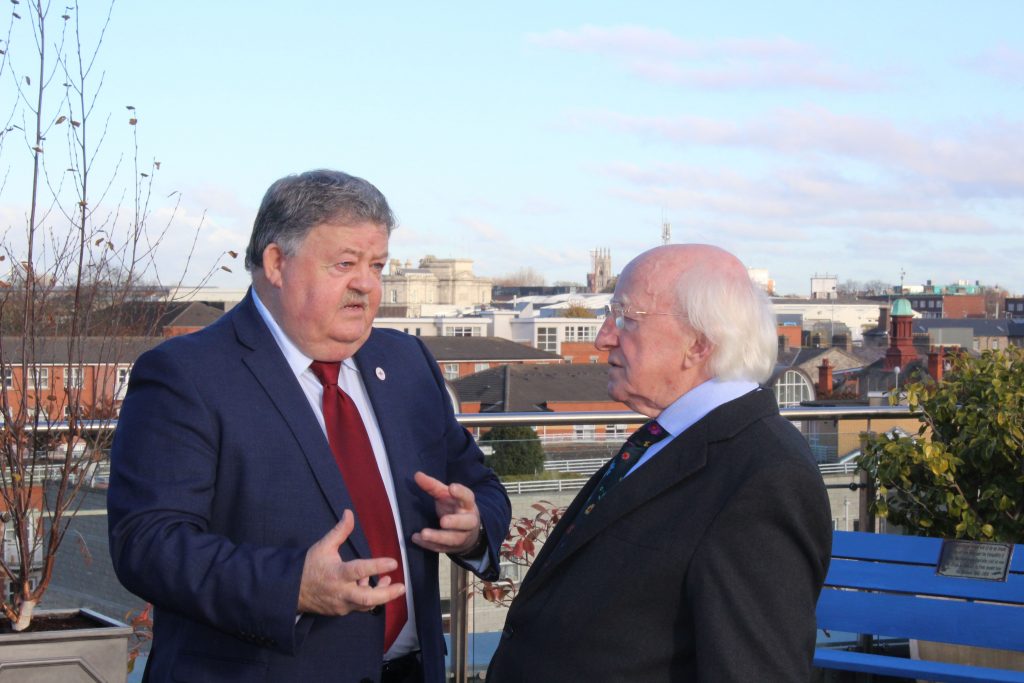 On Wednesday 23rd November President Higgins visited Brú na bhFiann (Home of the Brave) to see
the work being done in ONE's original home for former members of the Defence Forces who may have fallen on hard times and need somewhere to live. The president met several residents and staff from the home as well as some residents and staff from ONE's other homes in Letterkenny and Athlone who were there for the occasion.
The current Brú na BhFiann (the original, smaller home was opened in 1994) is a six-storey, custom-built building that opened in 2003. It is managed by Sgt Major Dick Dillon (retd), assisted by Sinéad Black and a small dedicated staff. The home can cater for up to 30 residents in subsidised temporary accommodation.
The story of Brú na bhFiann began in the winter of 1988/89 during an earlier crisis in homelessness, when a number of former soldiers were among seven people who died from hypothermia while living rough on the streets of Dublin. So touched were they by the plight of some former colleagues that Pat Dunleavy and others within ONE decided to start a home for ex-soldiers down on their luck, even going as far as raising mortgages on their own houses to generate the necessary finance.
It was in this spirit that ONE's CEO, Ollie O'Connor, welcomed the president to the home, saying:
"Brú na bhFiann is a home built on a dream of providing a safe haven for those who through their service in the Defence Forces brought honour to Ireland, and to ensure that never again would a soldier be found dead on our streets." In closing, he said: "In this historic year of 2016, homelessness is still very much a part of Ireland's story and we have yet to fully attain our goals."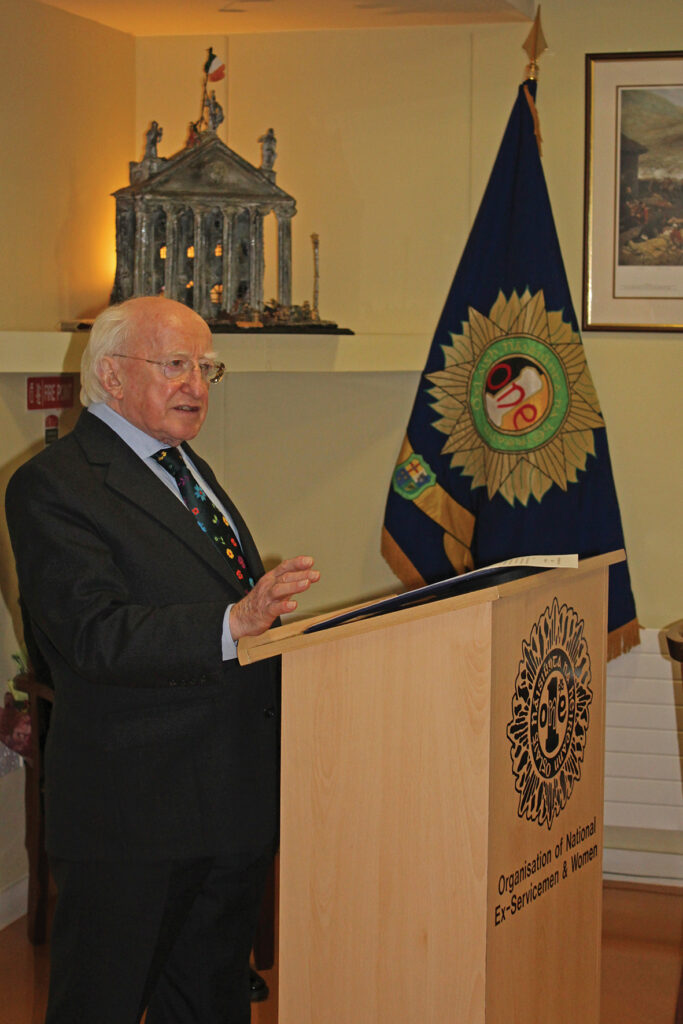 Addressing those gathered, President Higgins said:
"I am delighted as Patron of the Organisation of National Ex-Service Personnel to have this opportunity to visit this wonderful facility and it is appropriate to have these great services available to people who served Ireland at home and abroad. It is a basic right to have food and shelter and it's important to take steps to break the cycle of poverty; while a good health service and housing policy are very important, it is also important that people recover, as well as the economy."
To fund ONE's valiant homeless initiatives, which are acknowledged by the government and the Defence Forces/DoD, the organisation needs to raise €600,000 annually to continue running the homes and maintain them in a satisfactory condition.
In addition to its other functions ONE has also assumed responsibility for representing DF pensioners, as the representative bodies PDFORRA and RACO can only represent serving personnel. ONE has also broadened its lobbying abilities to represent ex-service personnel in a wide range of ancillary areas. For more information on ONE, visit www.oneconnect.ie
Read these stories and more in An Cosantóir (The Defender) The official magazine of the Irish Defence Forces – www.dfmagazine.ie.