As published in the September 2017 issue of An Cosantóir Magazine
By Sgt Wayne Fitzgerald – Main image by Wayne – Photos by Armn Adam Murphy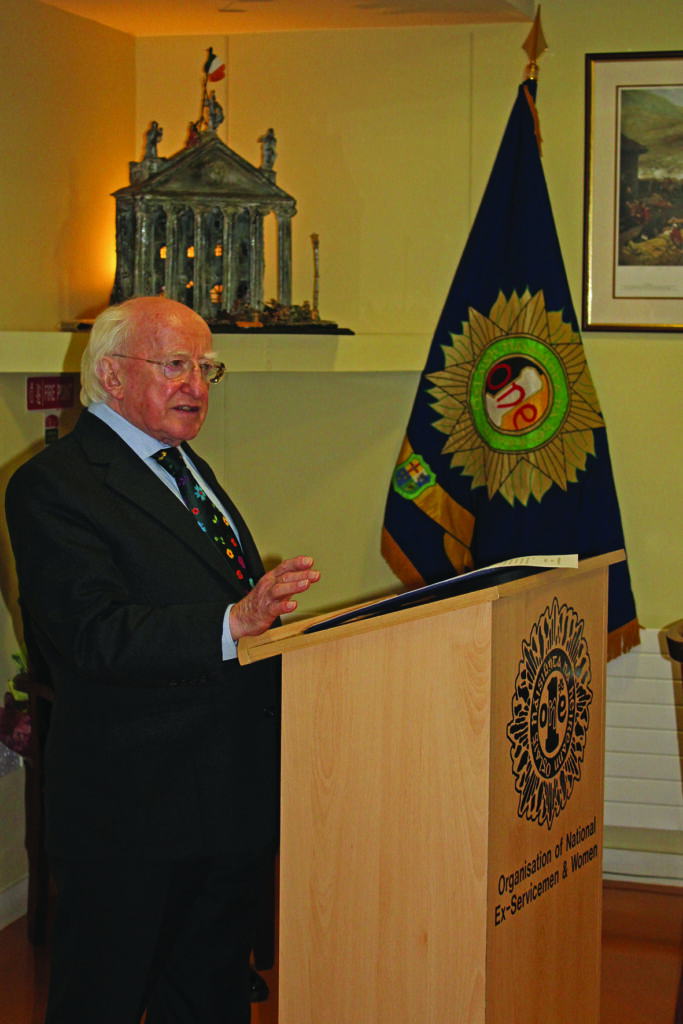 "I am delighted as Patron of the Organisation of National Ex-Service Personnel to have this opportunity to visit this wonderful facility and it is appropriate to have these great services available to people who served Ireland at home and abroad. It is a basic right to have food and shelter and it's important to take steps to break the cycle of poverty…"
Michael D. Higgins, President of Ireland, November 2016.
This year was also unique in that the ONE's Fuchsia Appeal made several appearances in the storyline of RTÉ's long-running soap, Fair City, with ONE members making cameo appearances as extras.
In launching the appeal Defence Forces Chief of Staff, Vice-Admiral Mark Mellett DSM said it is right that we help our former Defence Forces colleagues and that, "the ONE played an important role in providing comradeship and care for former service personnel."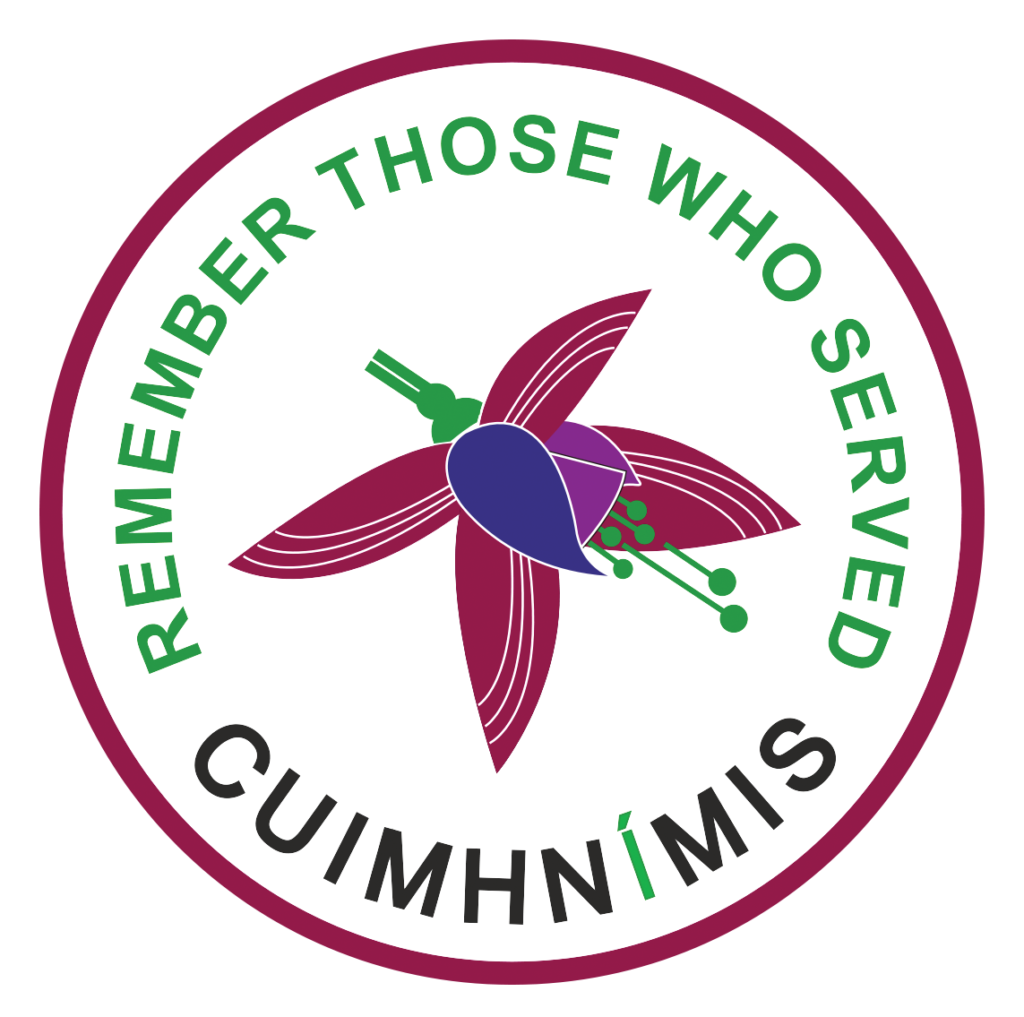 On a dull wet day at the end of June 2017 a large number of serving soldiers and Defence Forces Veterans gathered at the Defence Forces Monument at Merrion Square West. They were not there to lay wreaths to commemorate Ireland's fallen soldiers but to support fundraising for veterans now living during harder times and in need of support. On the same day an Irish Times headline read: 'More than 700 former Army personnel have stayed in residential homes provided by a support organisation over the last 12 years' the article was about how former Defence Forces Veterans' were caught up in Ireland's homelessness crisis.
On the 28th June, the Chief of Staff of the Defence Forces, Vice Admiral Mark Mellett DSM, launched ONE's Fuchsia Appeal 2017 at the Defence Forces Monument, Merrion Square West. Minister for State with Responsibility for Defence Mr Paul Kehoe TD and the Deputy Lord Mayor of Dublin Larry O'Toole were also at the launch, which drew a large attendance.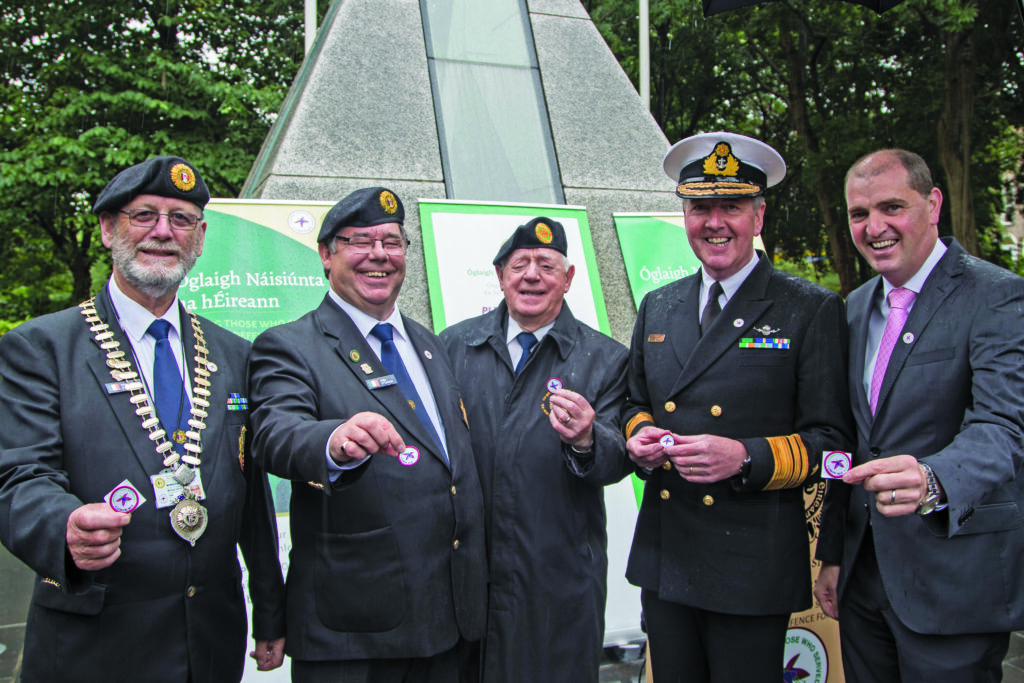 Funds raised will be used to support former members of the Defence Forces who have fallen on hard times. ONE has to raise €600,000 annually to run its current facilities, which include residential centres in Dublin, Letterkenny and Athlone, and support centres in Dundalk and Limerick. The veteran's organisation is currently providing accommodation for up to 40 former Defence Forces members and is expanding its network of veteran support centres in regional locations that have large numbers of ex-servicemen and women.
Since 1994, over 700 former members of the Defence Forces have been provided with a place to stay and many others have been assisted in various ways.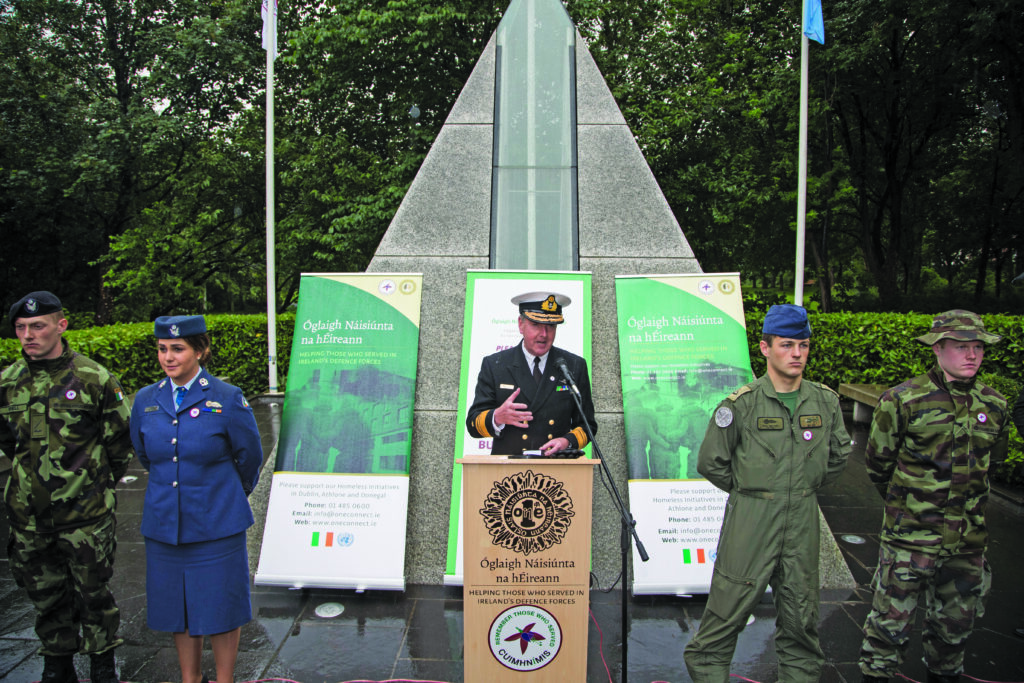 Regarding the annual appeal, Ollie O'Connor (ONE CEO) says: "The Fuchsia Appeal is fundamental to our efforts to protect former members of the Defence Forces from homelessness and poverty. The funds raised by the appeal enable us to help former colleagues at a challenging time in their lives. Many of these people gave outstanding service to the State and the UN but for one reason or another have fallen on hard times, since leaving the service."
The fuchsia, known as 'Deora Dé' (God's tears) in the West of Ireland, was chosen as the emblem of the appeal as it is grows throughout the country and was always a reminder of home when seen overseas.
Ollie told the Irish Times, "We hope to open another eight support centres in various barracks around the country in the next few months. Veterans find themselves homeless for the same reason as anyone else would. …it could be a social problem, a relationship break-up or it could be because of the nature of the job, they became institutionalised and they find it difficult to live independently outside of the institution," he said.
He concluded, "Veterans are very slow to come forward when they have a problem, because they're very proud. They have served all over the world, have done great things and very brave things and they will look after everybody except themselves."
Minister Kehoe said he was proud to help launch the Fuchsia Appeal, "Since its establishment in the early 1950s, the services provided by ONE have been very much in demand. ONE dedicates itself to looking after the needs and welfare of ex-service personnel and in particular, to providing practical support for those in need of accommodation."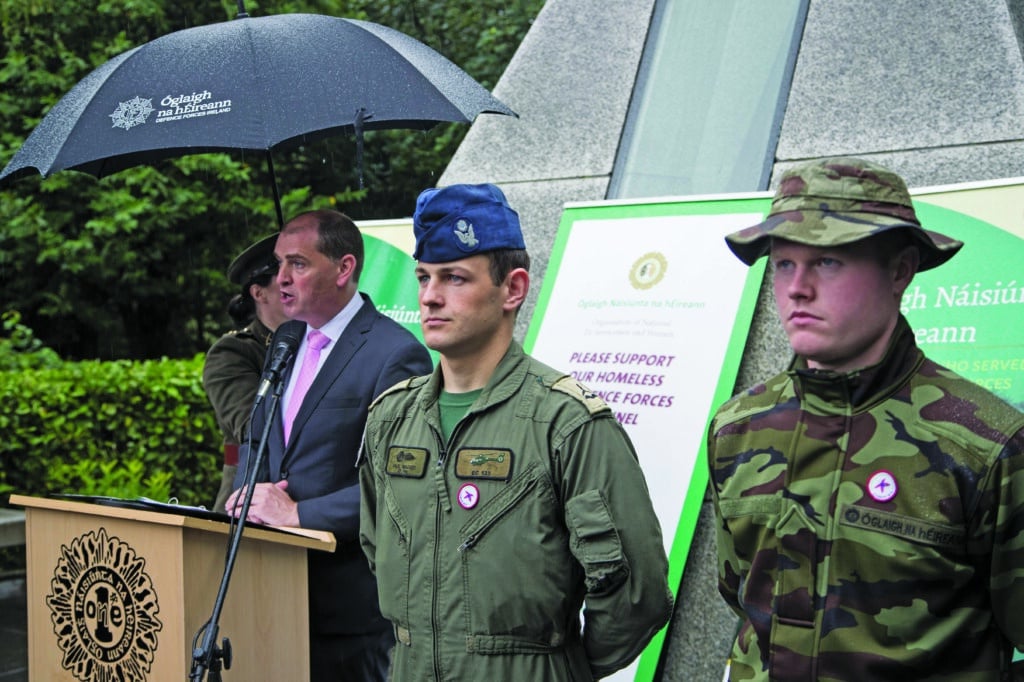 Read these stories and more in An Cosantóir (The Defender) The official magazine of the Irish Defence Forces – www.dfmagazine.ie.