As published in An Cosantóir in April 2016
Report and photos by Sgt Wayne Fitzgerald
On the 21st January 2016 An Cosantóir visited Sean Curtis, MD of PROTAC and chairman of the Association of Irish Military Enthusiasts (AIME), which is "devoted to the preservation and promotion of our military heritage". AIME hold a military show, 'SALUTE', in the National Show Centre, Swords in August every year. www.aime.ie
Last year Sean was lucky to purchase an old Willys Jeep from the 1950s, 'ZL1240', which was one of 40 or so Willys Jeeps in service with the Defence Forces from 1950 to 1966. From what we know the Defence Forces sold ZL1240 in the late 1960s.
Karl Martin's book 'Irish Army Vehicles, Transport & Armour Since 1922' (2002) lists the Willys entry into service. The two models purchased were the CJ3A and CJ3B; these were civilian versions based on the famous and most recognisable vehicle of World War II – Willys Jeep. (Some say the vehicle was nicknamed the 'Jeep' after a character in the popular Popeye cartoon of that period.)
Roughly 640,000 Jeeps were built during WWII by Ford and Willys, and used on every front of WWII. They subsequently saw service in Korea and Vietnam. The Jeeps not only proved themselves as reconnaissance vehicles, but also as fire engines, field ambulances, artillery tractors and even locomotives. Even after the war the jeep continued its success story in both army and civilian use.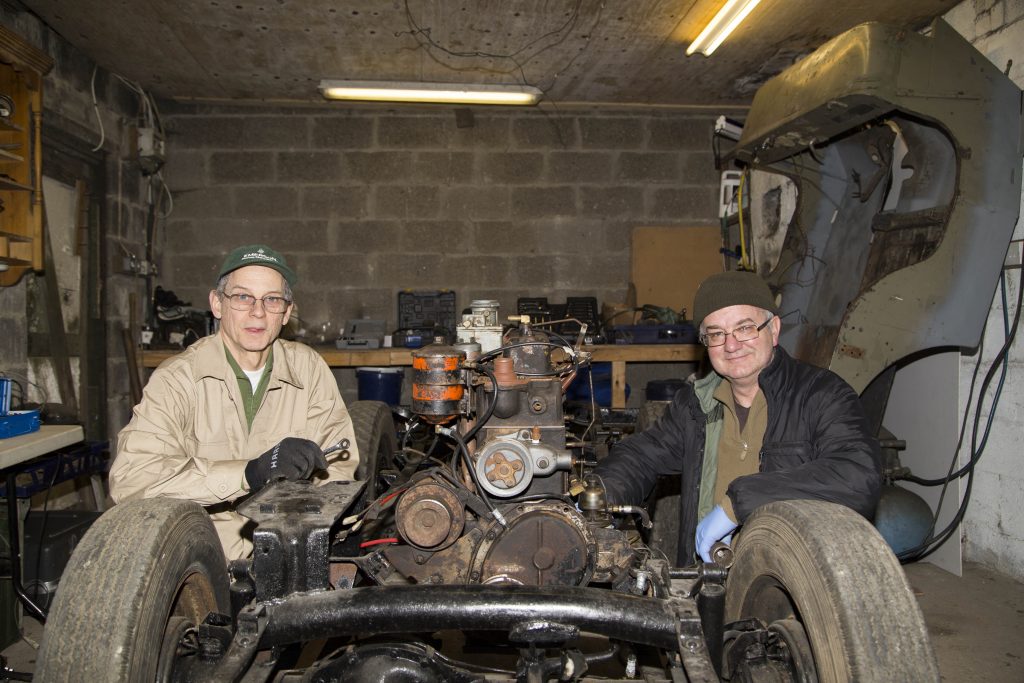 Willys CJ3A had an L-head 2.2-litre, four-cylinder 'Go Devil' side-valve, petrol, 63bhp engine; the CJ3B had an improved F-head 2.2-litre 'Hurricane' 73bhp engine. Both were 4×4 drive, three-speed gearbox with a two-speed transfer box. The Ford models were built to Willys specifications from an initial design by the Bantam Car Company who's prototype 'Blitz Buggy' was built in a mere 49 days – but that story is for another day.
Sean purchased the Jeep on the grounds that it would be fully restored and not sold on for profit. This particular Jeep served in 1 Cav Sqn, Cork. Because of the vehicles' short service there is little known about them and parts are near impossible to source in Ireland, as most 'off -the-shelf' parts don't fit. Sean ordered most of the parts from France and America. Sean's good friend, 'Don', an engineer by trade, and a military vehicle hobbyist who lives in the US took a list of parts and set about collecting them over the last few months. He came to visit Sean in January for ten days; this was their only window to use Don's expertise on rebuilding the Willys Jeep. Sean had the jeep stripped and cleaned, keeping 90% of the original paint on the outer shell by not sandblasting, and having it ready to be put together with the new parts. Ten days! The task was on…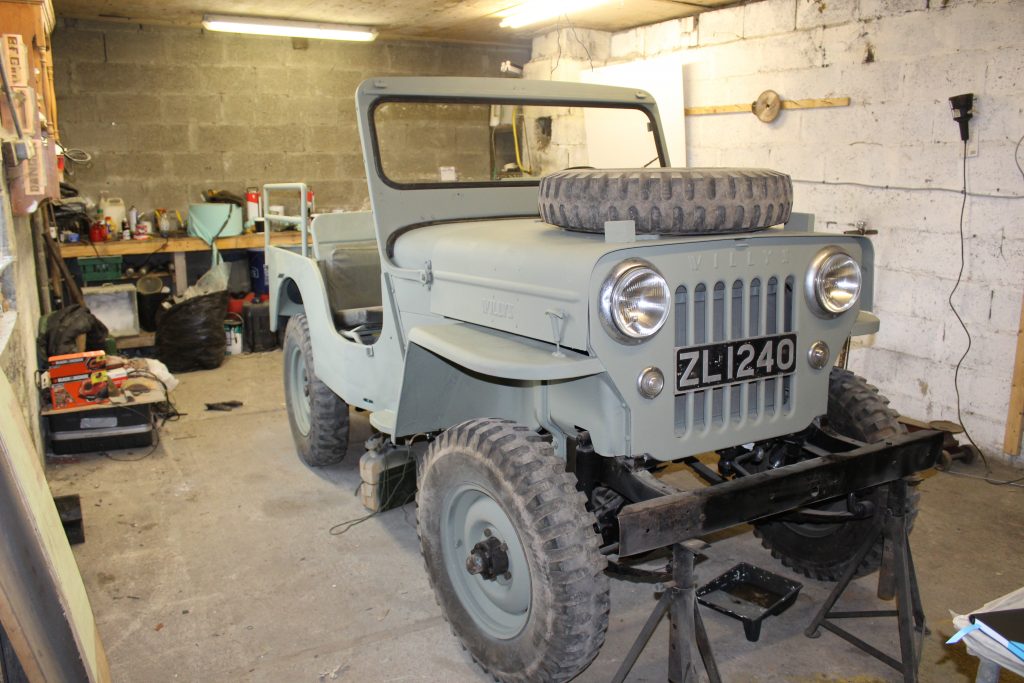 Sean and Don met over 20 years ago at the War & Peace Revival Vintage & Military History Festival, a five-day military and vintage festival held annually at Folkestone Racecourse, RAF Westenhanger, Hythe, UK. https://warandpeacerevival.com
Don said, "Sean and I have been friends for many years and when I visited last year he asked for my help with the Willys Jeep – I had already restored mine. I brought over about 150lbs of parts, tools and equipment to do the job. I have one of each of the Willys Jeep types myself, but my passion is Ford's GTB 10 ton truck, that saw service in Burma with the US Army."
We visited Sean and Don again on 28th January after nine days to check their progress. The jeep was completely rewired, using an old style loom, new engines seals fitted, and a complete engine strip and paint had been carried out. There were no indicators on the original version, but by law these now needed to be fitted. However they looked very original on.
Don continued: "This jeep has a history, so it has provenience and will be great to restore and display."

Sean added: "Its quite possible there's a number of these vehicles lying in sheds somewhere in Ireland."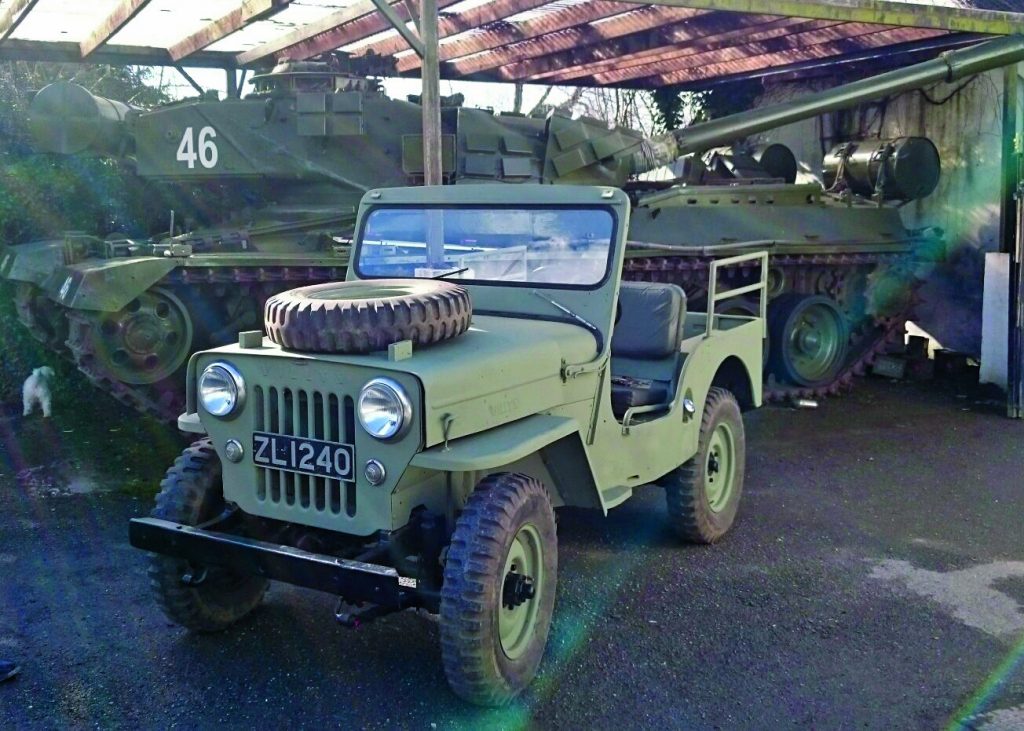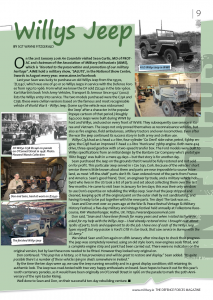 By the time the ten days were up, we saw the Jeep running smoothly and in a great display condition; still retaining its authentic look. The Jeep was road-tested with two very happy enthusiasts on board. Sean hopes to have it out for this year's 100th centenary parades, as it would have been originally on O'Connell Street in 1966 on the parade to mark the 50th Anniversary of the 1916 Easter Rising.
Well done to Sean and Don, on their successful ten-day rebuilding venture.
Read these stories and more in An Cosantóir (The Defender) The official magazine of the Irish Defence Forces – www.dfmagazine.ie.