As published in An Cosantóir on June 1, 2011
By Sgt Wayne Fitzgerald – Photographs by Armn Greg Dorney & by members of 105 Sqn
Queen Elizabeth II accompanied by her husband Prince Philip, The Duke of Edinburgh undertook a historic four-day state visit to Ireland in May 2011. As part of our country's protocol in marking the visit, the Defence Forces had over 500 military personnel participating in a variety of ceremonial parades. It has taken months of planning and weeks of rehearsals for all concerned and the following photographs capture the colour, pomp, music and fanfare of the first visit by a  to Ireland for over one hundred years.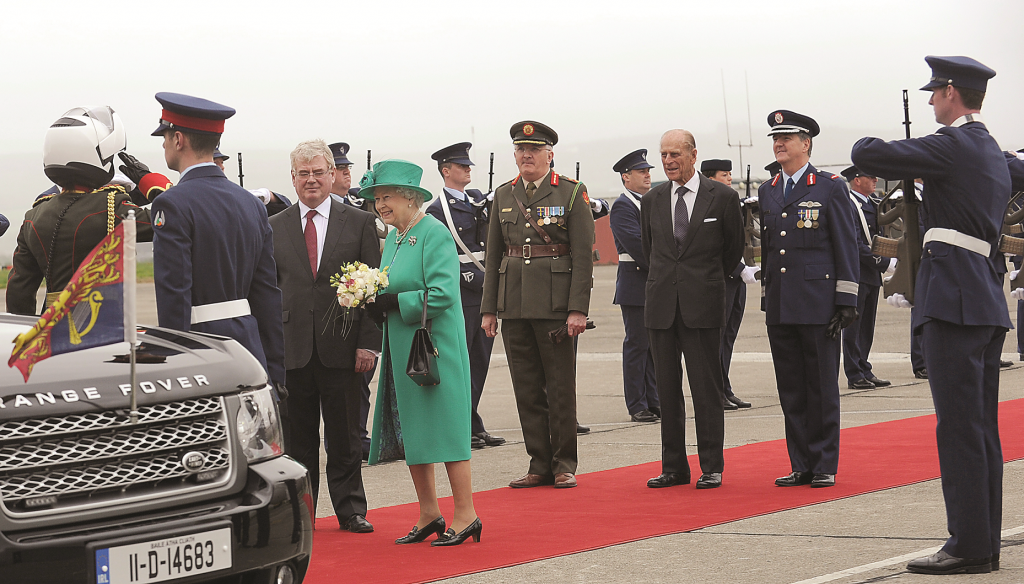 Capt Laura Keane (OiC Motorcycle Escort, 2 Cav Sqn) salutes Queen Elizabeth on her arrival at Casement Aerodrome. Also pictured are An Tánaiste, Mr Eamon Glimore TD, Maj Gen Dave Ashe (D COS Sp), Prince Philip, The Duke of Edinburgh and Brig Gen Paul Fry (GOC Air Corps). The Air Corps provided a Courtesy Guard of Honour.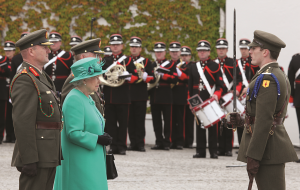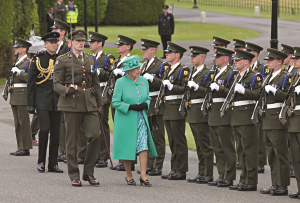 The Chief of Staff, Lt Gen Sean McCann and Queen Elizabeth in Áras an Uachtaráin are greeted by Capt Thomas Holmes (5 Inf Bn), who escorts Queen Elizabeth as she inspects the tri-service (Army, Naval Service and Air Corps) Guard of Honour at Áras an Uachtaráin. Also pictured is Major Dan Rex (Equerry in Waiting to Queen Elizabeth).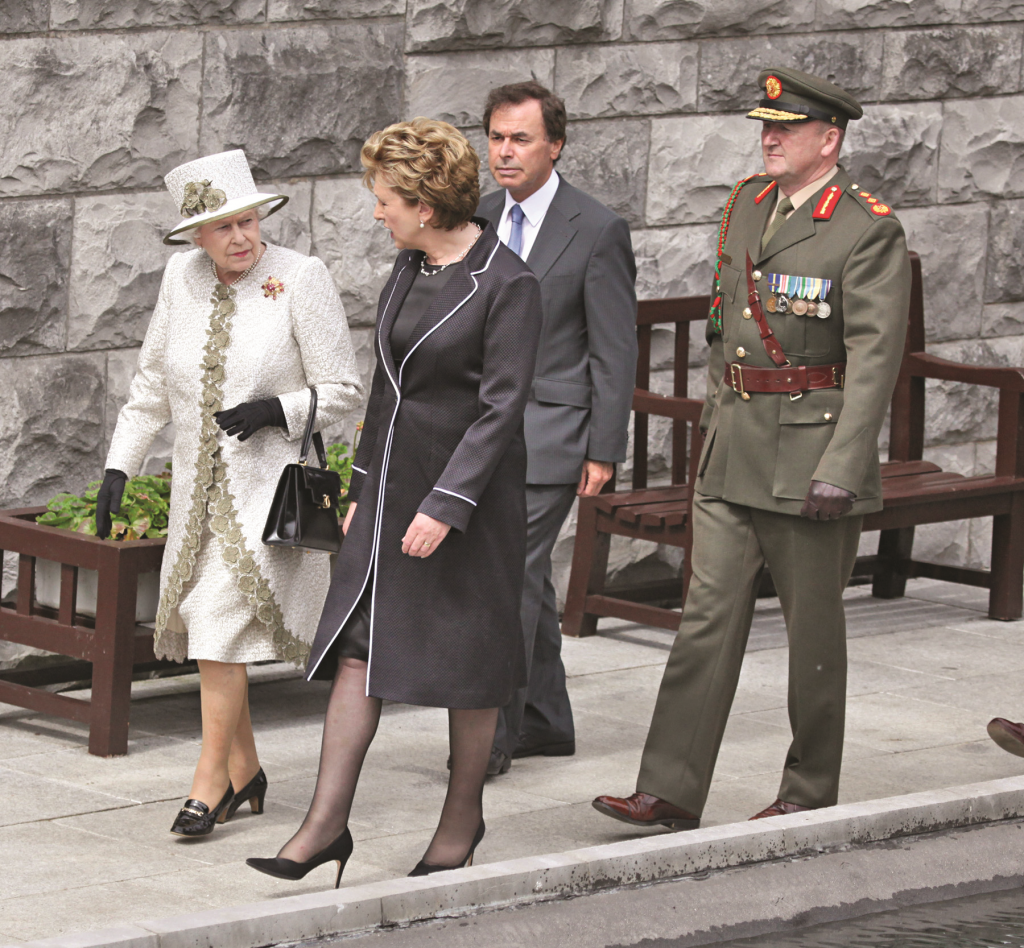 Queen Elizabeth and President McAleese, accompanied by Minister for Defence Mr Alan Shatter TD and Lt Gen Sean McCann attend a wreath laying ceremony in the Gardens of Remembrance, Parnell Sq, Dublin.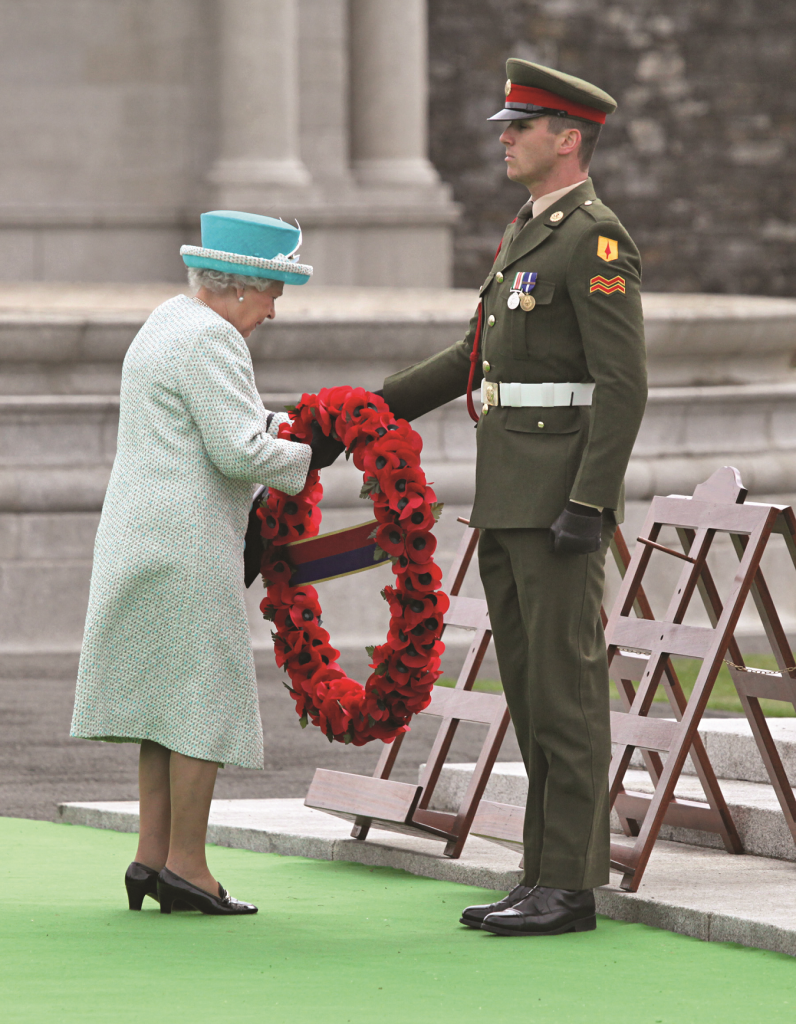 Cpl Derek Brunt (2 E Bde MP Coy) hands Queen Elizabeth a poppy wreath during a ceremony at the War Memorial Gardens, Islandbridge, to mark the 49,400 Irishmen who died while serving in the British Army during World War One.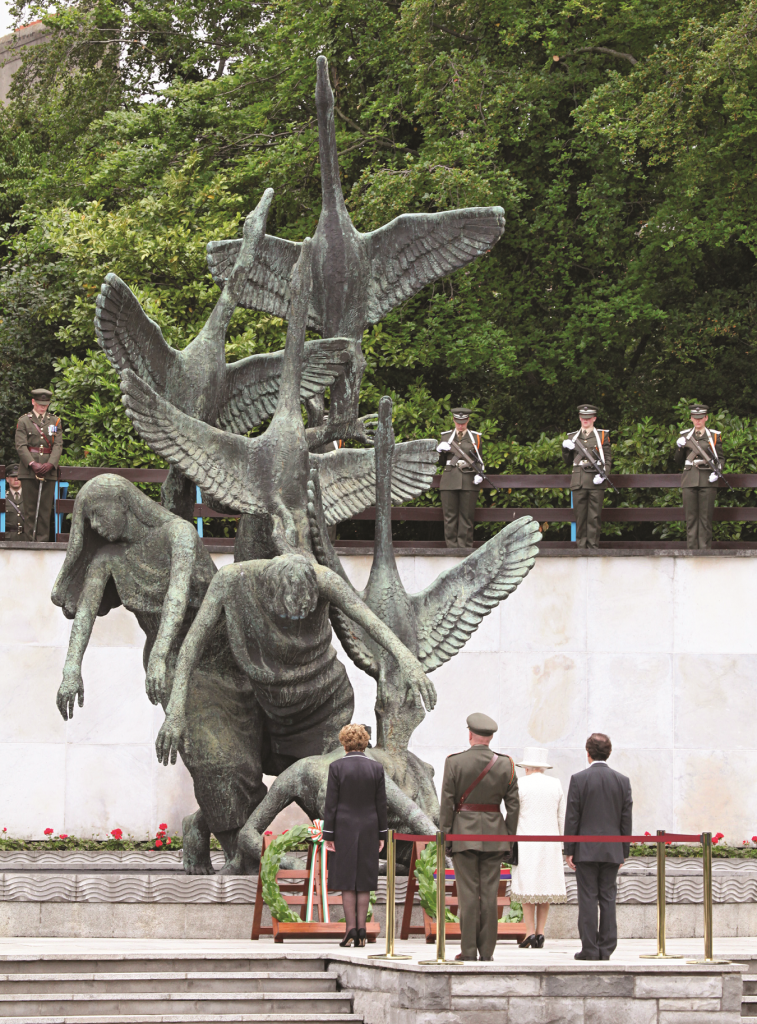 The Queen and the President lay wreaths in honour of the Irishmen and women who died in the struggle for Irish freedom at the Garden of Remembrance.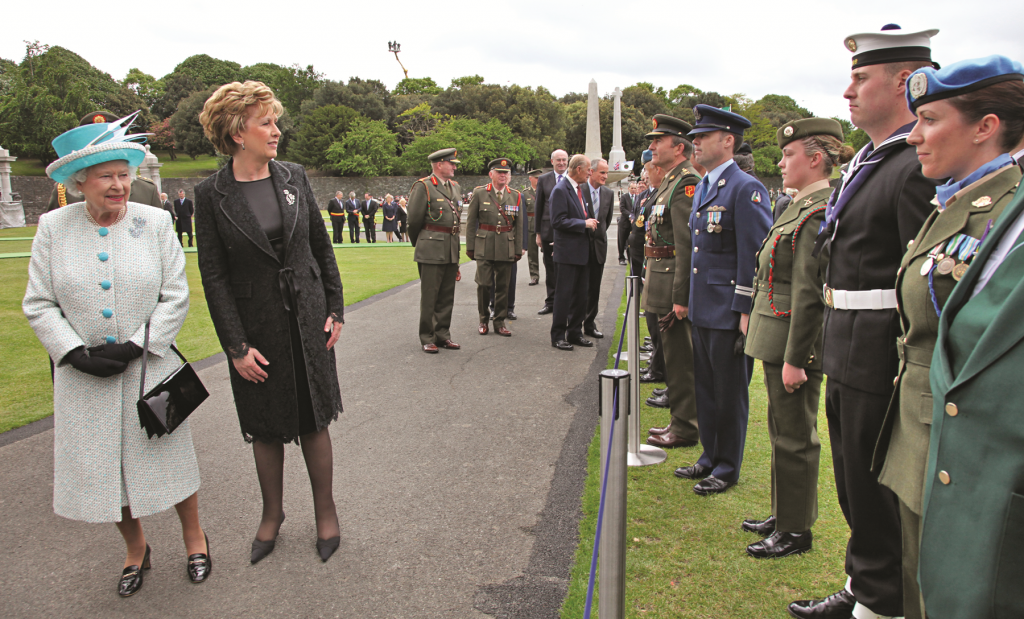 The Queen and the President meet members of the Defence Forces who attended the commemorative service at the War Memorial Gardens. They are from (l-r): Col Brian Dowling, Capt Ed Hollingsworth, Rec Katie Berry, A/S Ben Murphy and Sgwmn Emma Kells.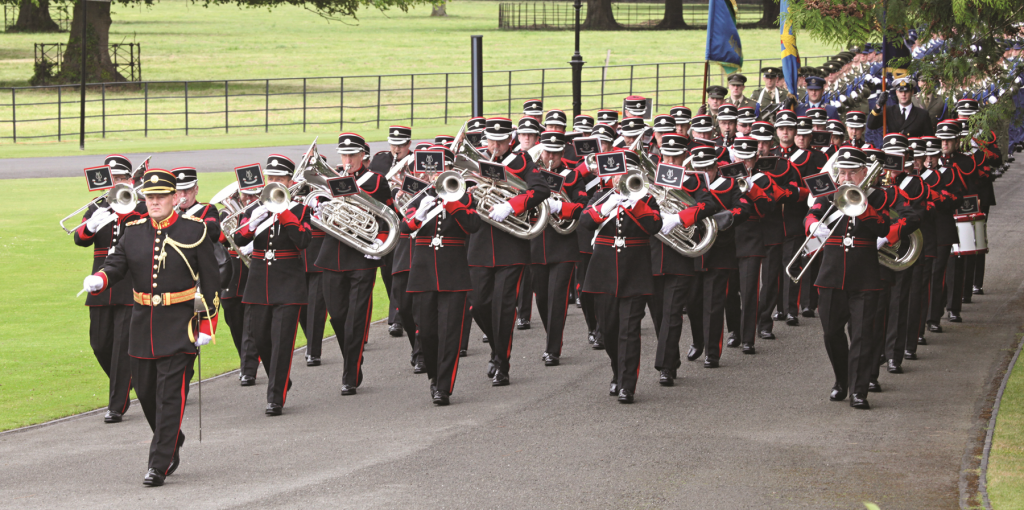 Lt Col Mark Armstrong (Dir DFSM) leads the Defence Forces Band and the tri-service guard of honour into Áras an Uachtaráin. Throughout the visit, the band, including pipers who were instrumental in providing a military musical tribute during all the official ceremonies.
Read these stories and more in An Cosantóir (The Defender) The official magazine of the Irish Defence Forces – www.dfmagazine.ie